If you've ever wondered how to make oobleck, it's much easier than you'd ever expect! It's so much fun for children of all ages and it only requires a little bit of adult support. Oobleck is very similar to slime and playdough, but far easier to clean up and it only requires 3 common ingredients!
In this fun science activity, we'll teach you how to make oobleck with easy step-by-step instructions. It's an awesome sensory activity to add to a sensory bin or to teach your little scientists about the properties of matter in a fun way. This is a great science experiment you can conduct at home, school, or really anywhere else since it doesn't requite any special equipment or tools. How nice is that?
What is Oobleck?
Oobleck is a non-Newtonian fluid made from a mixture of cornstarch and water. As a non-Newtonian substance, it does not follow Newton's law of viscosity, making it completely different to water. It is a thixotropic fluid that changes its viscosity when the forces and pressure on it change to be either more liquid or more solid.
This sounds pretty technical, but let's simplify it. Essentially, oobleck moves differently than water. You can create a batch of oobleck, which looks like a liquid, but when you punch it with your hand, it becomes firm.
Non-newtonian liquid examples include:
Blood
Quicksand
Ketchup (think about how sometimes you can't get the ketchup out of the bottle, but if you squeeze the bottle, it comes out)
Toothpaste
Certain components of cement (so it can be used to fill potholes)
Some dough & puddings.
Oobleck Recipe Ingredients
Cornstarch – You'll need 1 heaped cup of cornflour or cornstarch.
Water – You'll need 1/2 cup of water.
Food dye (optional)
Glitter (optional)
Essential oils (optional; choose oils that are safe for kids to touch)
Equipment
Before you start, I would suggest that children wear old clothes when following this simple oobleck recipe because it can mark clothing, especially if you're adding food colouring to it.
Collect some old measuring cups, a large bowl, and a large spoon.
How to Make Oobleck with Cornstarch
Add the cornstarch to a bowl.
If you're going to add food coloring to the mixture, add it to the water and mix well. Then add the water to the corn flour in the bowl.
Sitr the oobleck mixture together using a spoon, spatula, whisk, or even your hands.
You might need to add more cornflour or water to the mix, just go slowly and keep mixing. Trust me, you'll know once you have reached the right consistency.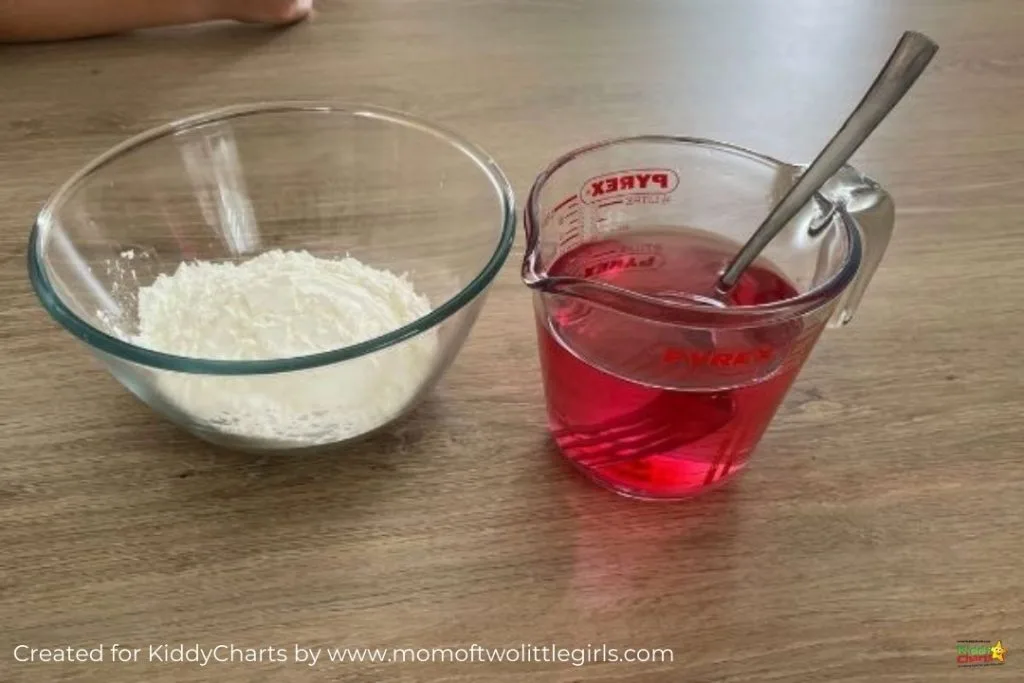 Here is a simple Oobleck recipe card for you as well:
How to make Oobleck
Easy recipe for Oobleck - a non-Newtonian liquid that kids just love to play with.
Ingredients
Heaped cup of Cornflour or cornstarch
1/2 cup of water
Food coloring or glitter if you want!
Instructions
Add the cornflour to a bowl.
If you're going to add food coloring to the mixture, add it to the water and mix well. Then add the water to the cornflour in the bowl.
Mix it together using a spoon, spatula, whisk,
or even your hands, and
Believe it or not - that. is. it!
Notes
This is a really simple recipe - which is why it is only three steps. Kids love it, it is easy to do, what more can you ask for?
How to dispose of Oobleck
Once you and the children have made and finished playing with your oobleck, you can keep it in an airtight container for about 24 hours. If you want to use it the next day and it's gone a bit hard, slowly add a bit more water to it. I recommend using a plastic container that you don't mind being exposed to dyes.
However, this homemade oobleck doesn't really last much longer than that. We would suggest that you dispose of it in the dustbin because it's not great for the drains to dump that amount of cornflour down them. However, don't worry about the washing up, because as we've seen, when cornflour mixes with too much water, it simply drains away. This is what makes cleaning up oobleck so easy. You can easily sweep it up or wipe it clean with a little water.
FAQs
How do I make oobleck?
Ooblck is incredibly easy to make. It's important to use 2 parts cornstarch and 1 part room temperature water. For this recipe, I recommend using 1 cup of cornstarch (also known as cornflour in the UK) and 1/2 cup water.
Slowly pour the water into a bowl with the cornflour and stir. Add any dye, glitter, or other decorations as desired and have fun! Since you know the proportions, you can scale this recipe up or down as you'd like.
Can I make oobleck without cornstarch?
Arrowroot flour and tapioca flour are two great cornstarch alternatives. They can be more expensive than regular cornstarch so if you are making a large batch of oobleck, it will be cheaper to use cornstarch.
How do you make colored oobleck?
It's so easy to make oobleck in different colors. Simply add a few drops of food dye to your water before you mix in the cornstarch. For example, to make green oobleck, you'll want to either add green food coloring or a mixture of both blue and yellow dye.
This is a great way to teach kids how to make secondary colors. There are seriously so many ways for students to learn while making this weird substance!
As you can see, it's effortless and easy to make Oobleck, and it's equally easy to clean up. For that simple reason, you won't mind if the kids want to make oobleck every weekend!
We hope you liked this simple science experiement – why not experiment with essential oils, and coloring as well as glitter to get creative with it!
If you liked this activity – try some more fun activities from the site!
Messy play and other activities
If you want some ideas of what to do to create some fun memories with the kids, what about some of these messy play and other fun ideas for them too. You will you aren't trying to get the carpet stain out the mat for years though....!
You could try these too:
Crafts from around the web
Enjoy some of these great kids crafts from around the web.
Photo Credit: www.iheartartsncrafts.com
Make some beautiful egg carton flowers for spring or anytime you need a fun craft idea!
Photo Credit: www.happinessishomemade.net
There are over 50 quick and easy kids crafts that anyone can make to keep your kids entertained and learning.
Photo Credit: www.happinessishomemade.net
If you need ideas for tweens and teens then this post is for you. Get over 40 easy crafts for teens and tweens here.
If you like this activity, do check out Mom of Two Little Girl's website as well – and have a look at our newsletter too.
Thanks so much for coming to see us as always, and be back soon.
Helen