Bonjour! Are you looking for a fun and educational activity that can teach your kids about France and its famous flag? You're in the right place! In this article, we'll introduce you to our unique collection of France and French flag coloring pages, which feature some of the most iconic symbols of the country, from the Eiffel Tower to delicious croissants and macarons.
You can use this as more than a coloring activity too. You could use the images to make up a brief story in French as a fabulous homeschool activity? Why not add in some french vocabulary as well?
Before we explore the coloring, let's dive into the meaning and basic facts of the French flag.
What is the French flag all about?
The French flag is a national symbol that represents the values of the French Republic, including liberty, equality, and fraternity. The flag, also known as the tricolor, features three vertical stripes of blue, white, and red. According to some interpretations, blue symbolises freedom, white represents equality, and red signifies fraternity or brotherhood.
What do our France and French flag coloring pages look like?
Let's take a closer look at each of the images in our France and French flag coloring pages collection.
Hand holding the French flag and The Eiffel Tower: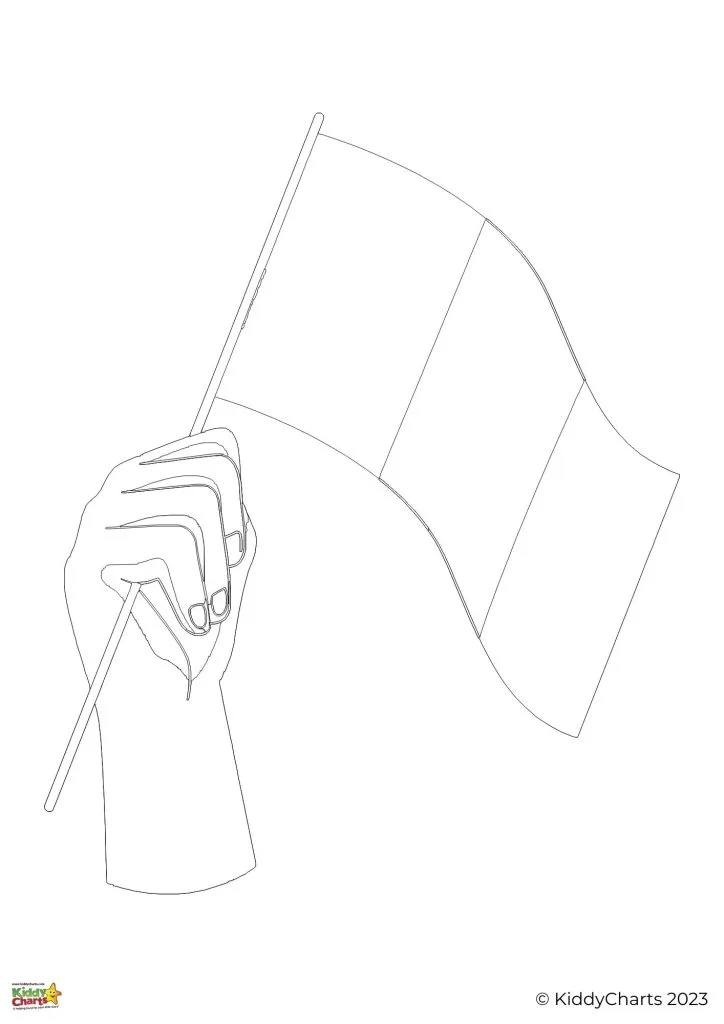 The first image shows a hand gripping the French flag with a graceful ribbon waving in the wind. It's a great coloring page for kids who want to learn about the symbolism and history behind the French flag.
The most famous landmark in Paris and France, the Eiffel Tower is a true icon of French culture and architecture. Kids can color this page and learn more about the tower's history and significance.
Baguette and macarons:
What's more French than a freshly baked baguette? This page is perfect for kids who love to colour and learn about French gastronomy.
These colourful and delicious French pastries come in a variety of flavours and colours. This page is ideal for kids who want to know more about the art of French baking.
Croissant and Bonjour
Another mouth-watering French pastry, the croissant is a flaky and buttery delight that's best served with coffee or hot chocolate. Kids can colour this page and get a taste of French cuisine.
The next page features the French word for "hello," a common greeting that's used throughout France and other French-speaking countries.
France outline and cheese board
This image shows the outline of France, with its distinctive hexagonal shape and borders with other European countries. French cheese is renowned for its variety and quality, from camembert and brie to roquefort and comté. This page is perfect for kids who want to learn a bit more about French cheese culture.
Merci, a Moped and the Arc de Triumph
This page features the French word for "thank you," another common expression that kids can learn and practice. In some cities in France, mopeds are a popular and practical mode of transportation. This page shows a moped for you to colour in because its a form of transport that is popular in France.
Finally, we are introducing our Arc de Triomphe colouring page – a wonderful way for both children and adults to engage with one of the world's most iconic monuments.
The Arc de Triomphe stands majestically at the heart of Paris, symbolising French national spirit and resilience. With our colouring page, you can bring this architectural masterpiece to life in your own unique way. Whether you've visited it before or dream of doing so, colouring the Arc de Triomphe is a fun way to explore French culture and history. Enjoy adding your personal touch to this grand symbol of France's rich heritage!
To download these, just click below:
We hope you enjoyed this introduction to our France and French flag coloring pages collection. Whether you're a parent or a teacher looking for a fun and educational activity, these pages offer an excellent opportunity to explore French culture, history, and language. From the iconic Eiffel Tower to the delicious French cuisine and the beautiful tricolor flag, there's so much to discover and appreciate about this fascinating country. So pick up your coloring pencils and start creating your own masterpiece! Bonne journée!
If you are looking for more colouring resources on the site, do take a look at our colouring pages, as well as these specific choices:
Other colouring and eBook resources on KiddyCharts for you and the kids
We LOVE coloring on KiddyCharts, and we do have a whole coloring pages section, so here are some of our favourites from there for you all.
We've also got a few travel ideas as well!
More travel printables on KiddyCharts
Here are some more travel printables on KiddyCharts - try checking out these articles for some more travel activity ideas.
Colouring pages for kids all about the cities of the world!
More travel colouring for kids, this time with the sunny, villa vibe.
Finally, a printable trip planner for you to decide what you are going to do on your next trip away with the family much more easily.
Here are some ideas outside of KiddyCharts too:
Colouring pages from "out there"
More resources for the kids to colour in - there is so much amazing stuff out there!
Photo Credit: www.thepurplepumpkinblog.co.uk
Gorgeous rainbow colouring pages, and there are 8 of them to choose from as well.
Photo Credit: kidsactivitiesblog.com
We love an owl on KiddyCharts - and these are lovely owl colouring pages for the kids too.
Photo Credit: www.powerfulmothering.com
I LOVE Lego - it is amazing to play with - but why not colour pictures of it too when you aren't building with it?!!?
Do sign up for our newsletter to get more awesome ideas to your inbox:
Thanks as always for coming to see us.
Take care,
Helen