We are getting you organised now – even more than we usually do! Today we have a printable 2 week calendar for you to print out for free.
We are famous for our weekly planner template ideas on KiddyCharts, so we thought instead of doing a monthly calendar, why not try some additional ideas for you this time? Weekly calendar templates are everywhere – but what about ones that show two weeks? And voila, a multi-week calendar seemed like the perfect idea. Do check out the year calendars we have on site if you can though, as well as in our shop.
We do have a few excellent planning resources on our membership site, including a sticky notes planner. We've also got a great meal planner on this site too, in case you are looking for something a little bit different.
These two calendar templates are in pdf formats as usual, and will help you organise things on a weekly basis just that little bit more, but with simple solutions.
We think this is a great idea for organisation, don't you? Usually calendar have a number of weeks ahead in them, but this one is just two, making it a much simply weekly schedule.
What is included in our printable 2 week calendar
We have gone for simple for you! This is only a single pager; we want to help you to do this planning lark as easily as possible, rather than grappling with loads of planner pages – we are giving you just one page for this 2 weekly template.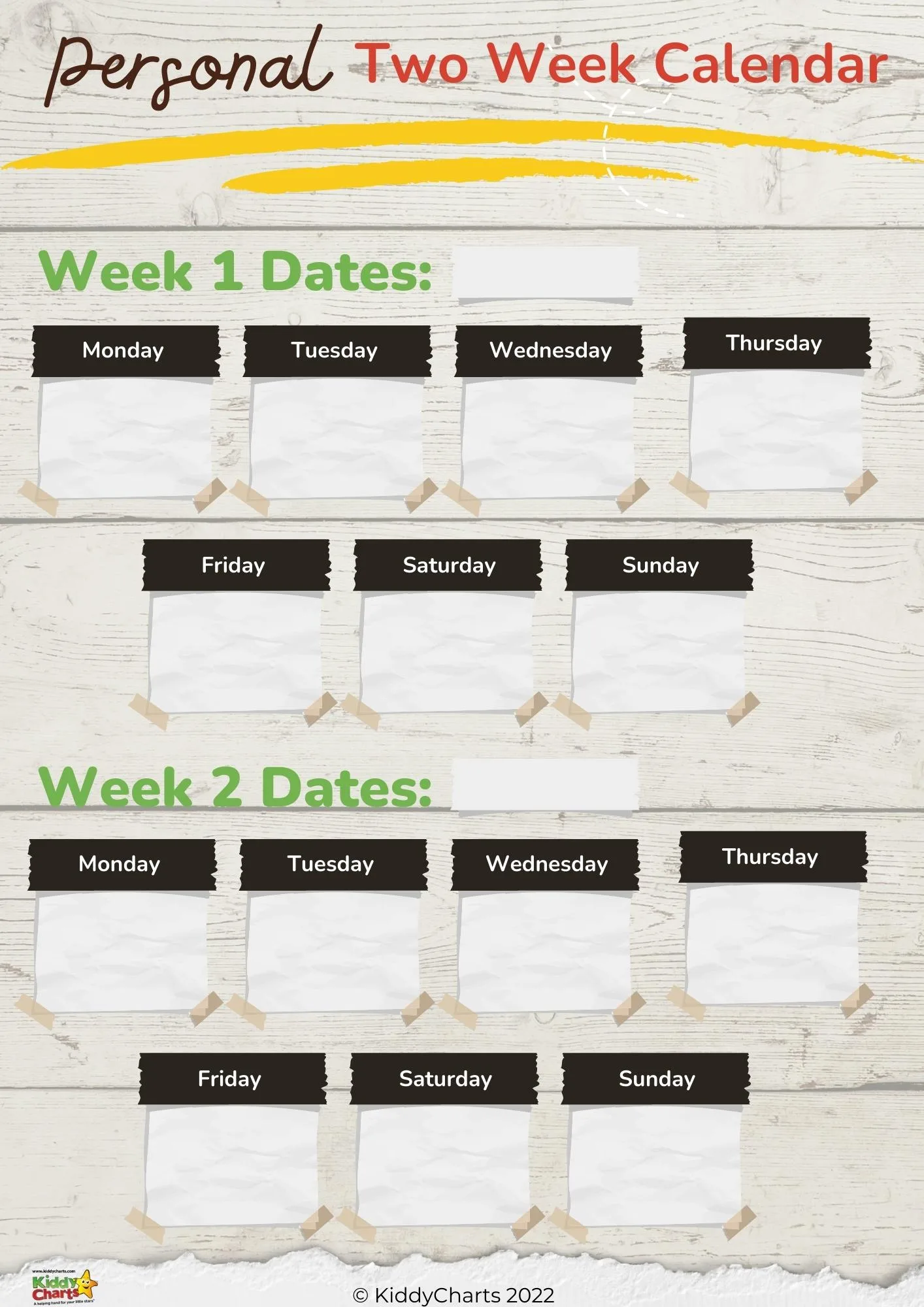 For our free version, which you can download from this article, there are two options for your printable weekly planners:
These are in the traditional KiddyCharts branded colors, and then a black and white version to keep the printing costs for you all to a minimum.
It really is as simple as it looks, we have a schedule for all the days of the week included for the first week in the fortnight.
Then, we have identical for the second week in the two weekly schedule.
Just add in what you need to do on each day, appointments, or tasks, or both, it is up to you.
We have also included a box for you to add the dates of the weeks that these printable 2 week calendars apply to. The idea of this is that you can print these out, or photocopy them to continue to use them throughout the year.
We have deliberately not added in a date on them, so they can be used in any week, or any year, depending on how you want to organise everything.
I want a different format for my 2 week calendar
If you are after a different layout – we have GOT you covered for this as well! We have added a landscape version for you, giving you ample space to add in details of your daily routine, but still with a minimalist design.
We know some of you would rather the calendar was in landscape A4 paper sizes, so we have this too for you FOR FREE in the above two designs.
What more could you want from this, right?
10 ways to use this printable weekly calendar
As always, there are a number of ways that you can use this calendar in your life – to help organise things just that little bit easier. Each printable has the day of the week, and you can add your daily schedule or weekly goals however you like:
Print a copy for each member of the household and they can fill it in with their appointments or weekly tasks, so they are always one step ahead. Pop it on the wall to make it easier to see what is happening,
Share a copy with your kids and they can add their homework deadlines or important tasks into it for the following two week, so they are on top of what they need to do and when during the school time,
Use as a homeschool lesson planner for the next two weeks – pop in either the lessons that you plan on doing, or the daily tasks that you need to do to manage homeschool in your household,
Add birthdays to the weekly calendar template – that way you are always a week or so ahead and can buy gifts and cards as you need them,
My favourite – just use the simple weekly schedule for self-care! What are you going to do each day FOR YOU that means that you are always giving yourself a little me-time across the entire week for the next two weeks,
Add in your exercise plan for the following two weeks – going to swim on Thursday and Sunday at 9am; add the right time for the exercise into the calendar, and then when you have done it, tick it off! The landscape version of this calendar has enough space for an hourly schedule
Give the calendar to your children, and they can decide what they do with it! Perhaps they will write what they need to take to school each day for the next two weeks? PE kids on Tuesdays and Fridays, and their violin on Wednesday? Using the calendar this way is a wonderful way of teaching your kids how to get organised and to think about planning, without them feeling that you are "taking over."
You it for meal planning two weeks in advance – add the meals that you need in the portrait version, and you can even use the landscape version as a shopping list so you know what you need to buy for each of the meals you want to make
Use it as an aid to positive wellbeing – as a mood tracker. Put how you are feeling each day within that two week period on the schedule, instead of what you are looking to do, and initially
How about adding in three things each day that you are grateful for instead of a weekly agenda? Another way to help you focus on the positive in your life.
We know you are probably after the free downloads now, so here you go, there are two files for you to have from this post.
Whatever you are using it for, from self care, to mood trackers, we hope you find it useful. Let us know if you can.
And here is the landscape free templates version for you too…
We have also recently released a goal planner for the kids too, helping them to focus on their main goals for the week. If you are looking for other custom weekly calendars, please do drop us a line, and we can see what we can do for you.
And here is the landscape free version for you too…
If you want to check out the other paid calendars we have – visit the shop.
Other planner resources on KiddyCharts
We have loads of planner ideas on KiddyCharts, for a wealth of different things. Do feel free to check them out here, and also in our shop too!
And here are some others off site too:
Planner ideas from the internet
Here are some more ideas for you around planners across the internet - anything from meals to scheduling!
Photo Credit: natashalh.com
A bullet journal planner with an animal theme for you to download for free.
Photo Credit: organized31.com
Some more yearly planning resources for you to take the year by storm with!
Photo Credit: www.twopinkpeonies.com
Finally a meal planner printable for the week, so you can get organised with those meals much more easily.
If you like what you see here – why not sign up to our newsletter for articles as they are released on the site?
Thanks, as always, for coming to see us!
Helen