Are you looking for ideas on things to do with your kids in New York?
I compiled a list of free, cheap, and can't miss things before you leave the Big Apple.
I know New York doesn't seem to be the first place you think of when you think family vacation destination, but the city offers a multitude of fun places and events that are sure to make this one of your favorite vacations ever.
Free Things to Do With Kids in New York
Whenever I plan a vacation with kids, the first thing I do is research what activities we can include for free. Finding free things to do in any city you visit is a great way to make your vacation budget stretch.
Let's take a look at some great ideas for free things to do with kids in New York.
Queens County Farm Museum (Free Daily)
You probably don't think of farms when you think New York City, but Queens County Farm dates back to the 17th century and spans 47 acres.
This 47 acre Farm Museum has old-fashioned farm buildings, livestock, planting fields, a vineyard, and more within the city limits.
It has a petting zoo, educational programs, and seasonal festivals. The grounds are free daily, but there may be a ticketed event happening, so just check in advance.
New York Botanical Garden (Free Daily)
New York Botanical Garden is located in Bronx Park and covers 250 acres. There are 50 speciality gardens. It is the most expansive botanical garden in the United States.
You should especially check out The Everett Children's Adventure Garden, with 12 acres of mazes, natural instruments, a puppet theater, and a discovery center.
Events at the Public Libraries City Wide
We nearly always visit libraries when we visit new cities because public libraries are forever hosting fun events for kids that are usually educational and fun.
New York Public Libraries are no different. Plenty of free events to choose from.
It also gives very young children a sense of normality on vacation if they visit their hometown library frequently.
Train Watching at Grand Central Terminal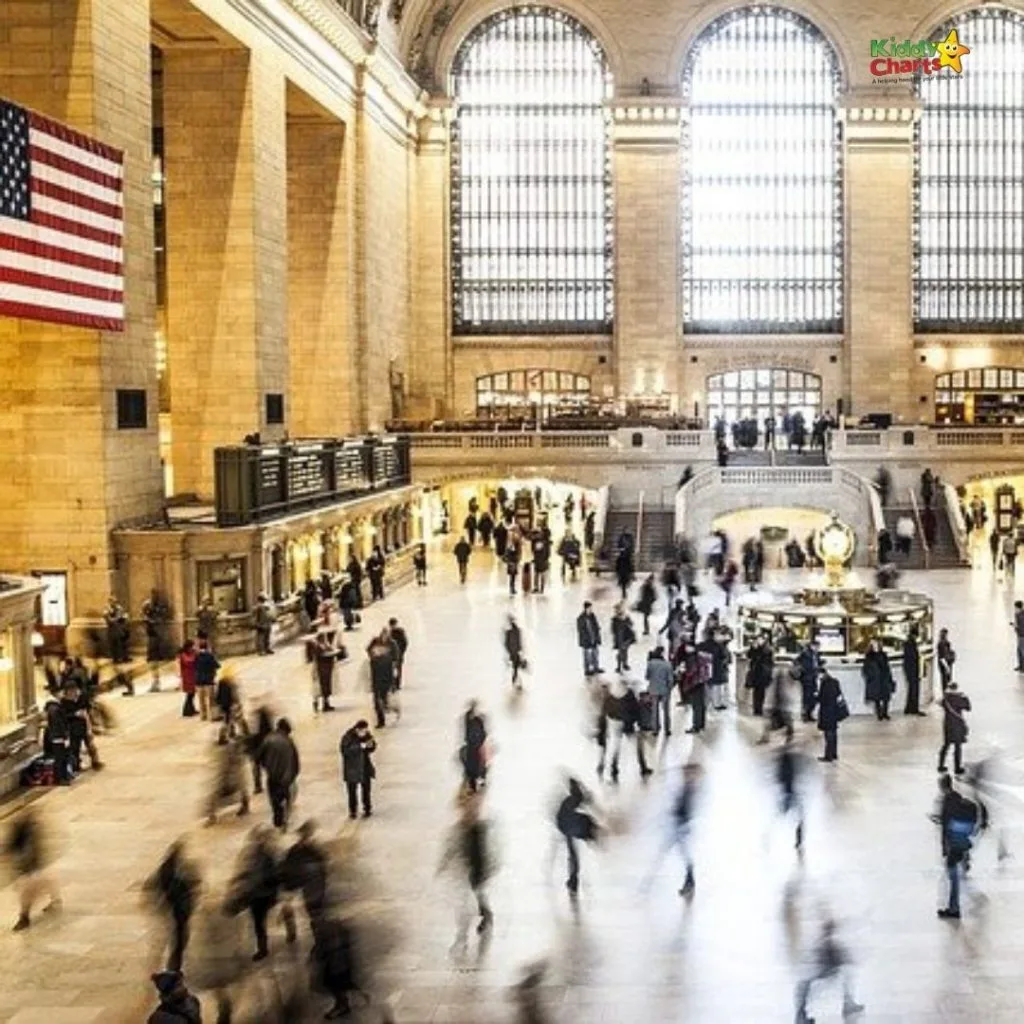 There is more to do at Grand Central Terminal than to take in the architecture and watch trains, like taking a free tour, go window shopping at the 68 permanent shops, and see the miniature trains in the New Tork Transit Museum Gallery Annex.
FDNY Fire Zone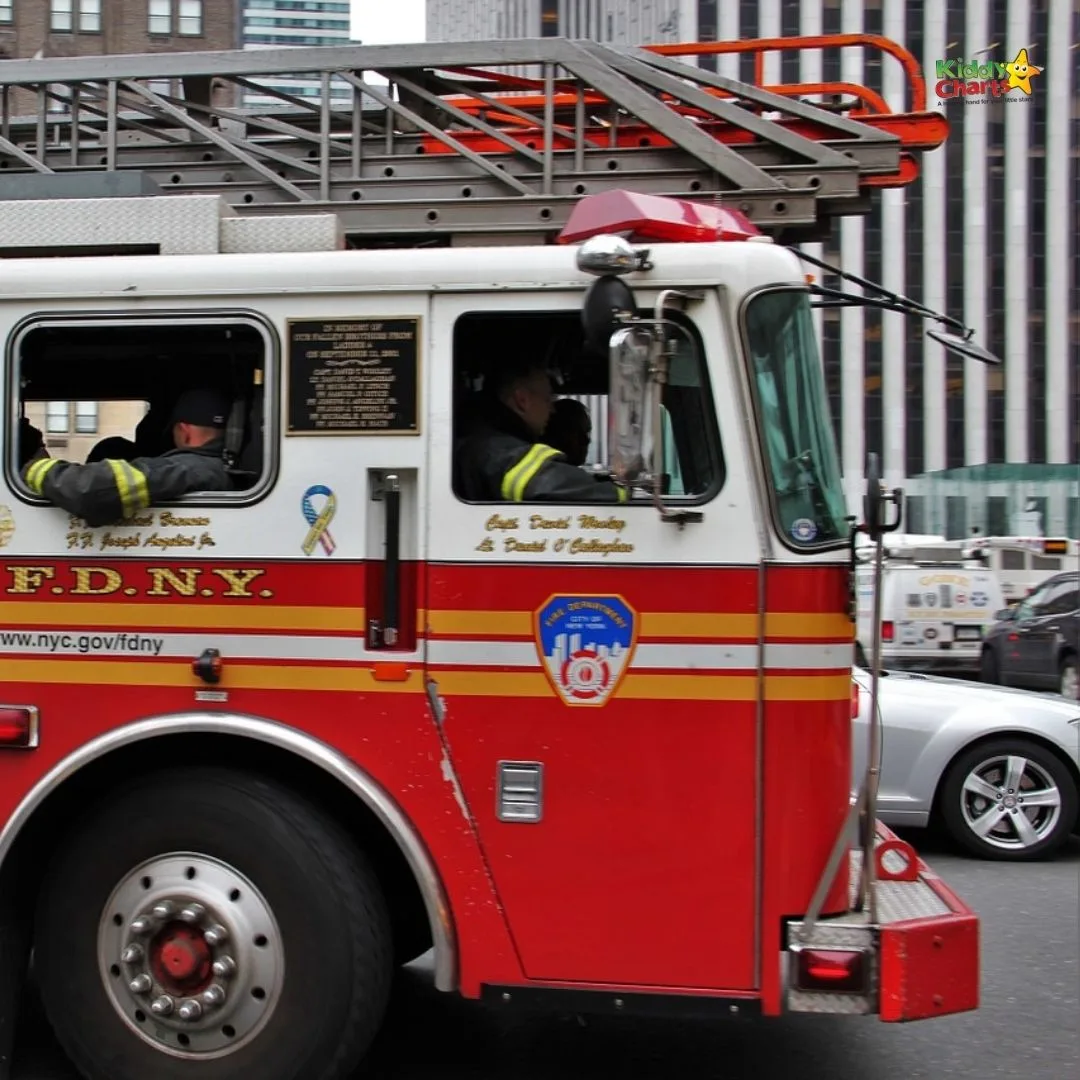 At FDNY Fire Zone, you can learn all kinds of fire safety in a state-of-the-art fire safety learning center. Kids can climb a fire truck, try on firefighter gear, and more. If you have a kid who is fascinated by fire trucks and firefighters, this is a great one to add to your itinerary.
New York Playgrounds
With a city full of kids living in flats and apartments, New York has playgrounds every few blocks. My favorite thing is all the major parks have bathrooms.
Some of New York beloved playgrounds include:
Ancient Playground at Central Park,
Billy Johnson Playground at Central Park,
Domino Park in Brooklyn,
Governors Island,
Imagination Playground at South Street Seaport,
Pelican Bay Playground in the Bronx, and,
Hippo Playground on the Upper West Side.
Staten Island Ferry
If you are on a tight schedule, this is a great way to see Lady Liberty for free instead of having to stand in line and paying to see her. You will also get a fantastic view of Manhattan while on the ferry.
Cheap Things to Do In With Kids in New York
Traveling with your family usually means there is a budget to be kept. I wanted to make sure that you had some cheap things to sprinkle in so you can spend your vacation money wisely.
Bronx Zoo (suggested donation on Wednesdays)
Bronx Zoo is the largest zoo in America and can easily take all day. It has more than 4000 animals! Don't worry about having to walk the entire zoo; they have trams and monorail to take some of the work off your feet. Check for special events, and don't miss feeding times for some of your children's favorite animals.
Ferry Ride out to Governor's Island
The only cost to have a day out at Governor's Island is the ferry ride there. It boasts a 50,00 square foot play area known as The Yard. It also is home to the biggest slide in New York (57 feet!!!) There is so much fun out here. Pack a picnic and spend the day enjoying Governor's Island.
SeaGlass Carousel in Battery Park ($5 per person)
This may be the most beautiful carousel in the world. You get to ride on Fish as they dance and twirl through the ride. It doesn't even feel like a traditional carousel. Between the music, the motion, and the beauty of the fish, it is absolutely enchanting and otherworldly.
Can't miss things to do in with kids in New York
Central Park
Central Park is one of the most iconic places to visit in New York City, but as large as it is, let me give you a few things you don't want to miss. Racing sailboats at Conservatory water is a fun way to spend some time. The Central Park Carousel is more traditional but definitely makes my can't miss list. It even has its own zoo.
Coney Island
Coney Island is another can't miss spot in New York. Of course, you can't forget to go to the beach, but while you are there, check out Luna Park.
Luna Park has all kinds of cool rides for kids like a carousel, swings, zip lines, spinning teacups, and more. The New York Aquarium is another attraction that you can catch while you are visiting Coney Island.
If you are visiting during the summer, you can't miss the fireworks they shoot on Fridays from the summer equinox through Labor Day.
The Empire State Building
The 86th floor gives a stunning view of the city and is a must-do experience. Skip the line and order tickets online for a shorter wait, and it is better to go first thing in the morning or late in the day. Mid-day can be a hassle.
Children's Museum of Manhattan
Be sure to bring a change of clothes if you plan on playing at the City Splash, which offers water play from sailing a boat, painting with water, and playing with sand.
When you get there, grab the daily schedule to get the museum's full benefit. You can get them at the information center.
If you get hungry, just get your hand stamped so you can come back after you visit a nearby cafe.
Dylan's Candy Bar
This is like a childhood dream come to life. It has a giant lollipop tree. It has one of the largest selections of candy in the world with more than 7,000 different sweet treats.
While New York may not come to mind as the first place for a family vacation, the Big Apple offers so many things to do with your kids that you could spend an entire year and still not see everything there is to see and do.
Hopefully, this list narrowed down your focus on things to add to your New York trip itinerary.
If you are looking for more family themed travel then check out some of our other family travel posts. For example, check out these ideas for city farms to visit.
Travel articles on KiddyCharts
Here is some of the other travel related content that we have on KiddyCharts - we LOVE to get out and about with the kids.
We have visited Africa before - here are some of our thoughts (and pictures), on the best things to do in Mauritius with the kids.
Jamaica is the biggest island in the Caribbean, but what is there for families to do?
We have visited Antigua, and would love to go back. And THIS is why!
How about even more travel related content? This time, take a look at some of these other sites on the web.
City focused travel colouring pages for the kids to have a go at in the back of the car.
Another iSpy game for the came - but with a little bit of a twist. Check it out.
Ideas for travel for your next family holiday - that you might not have actually thought of doing before.
Do you need travel inspiration? Then why not sign up to our newsletter where we share with you our newest posts on family travel, free printable activities, and educational resources for kids? It's free!
Thanks for stopping by,
Helen