We have a wonderful treat for you in the exclusive and free Time to Pee club. We have 12 wonderful Christmas Books story cards for you to give to the kids. You can use this as a different kind of advent with them – countdown with a different story book every day to the big day! These books are all holiday themed, and just fun for the little ones. Easily available on Amazon too, so check them out.
You need to be a member of the Time to Pee club on KiddyCharts to access this, but that's free, so why not join now?
Sign up to our Annual subscription to the Time to Pee club here!
£49.95 and everything in the shop is FREE!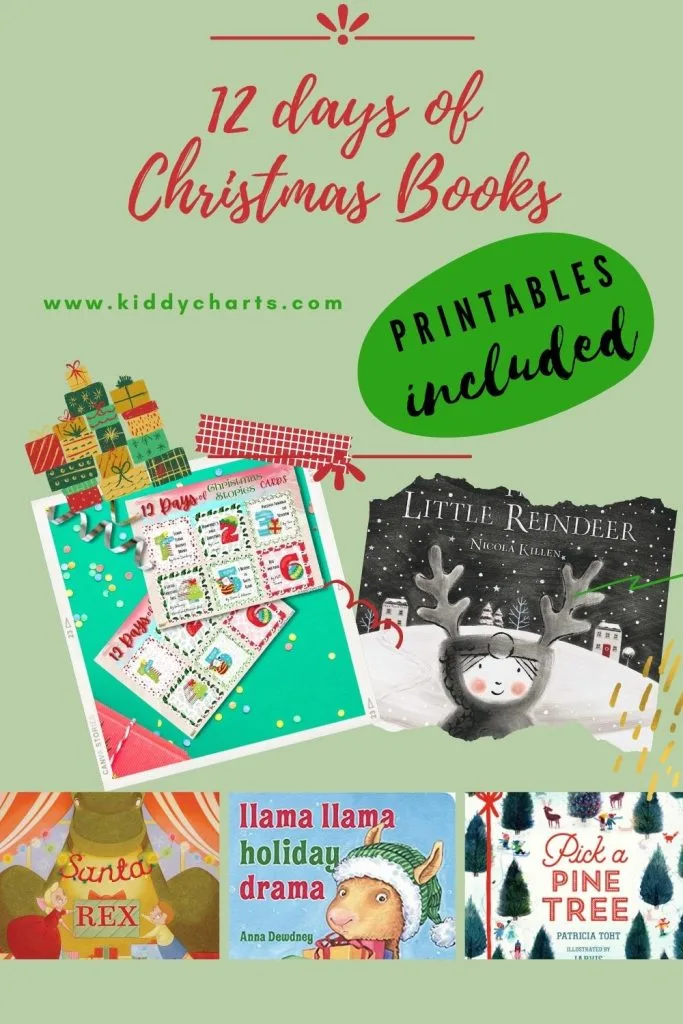 What Christmas Books do we recommend?
We have 12 story cards for you to have for the 12 days of Christmas reading countdown – such a lovely set of printables, and such nice books. Here they all are:
Llama is not very good at waiting – Llama and his mum are getting ready for Christmas, doing all the usual Christmas things, but when is Christmas actually going to come?!?!
This is a book that share with you the story of Christmas thanks to a grumpy camel, and his new blanket.
A charming board book to help introduce the Christmas story to kids in a charming, and accessible way.
Day 3
Santa might not be your traditional fellow in this book. There is a helicopter, a moustache and a pink suit.
There is also chaos as Santa moves far too quickly through the world giving out his gifts and doing so so quickly that he isn't quite sure who is going to get what.
A fun, and frivolous look at Santa's antics delivering presents, with some rather gorgeous illustrations too.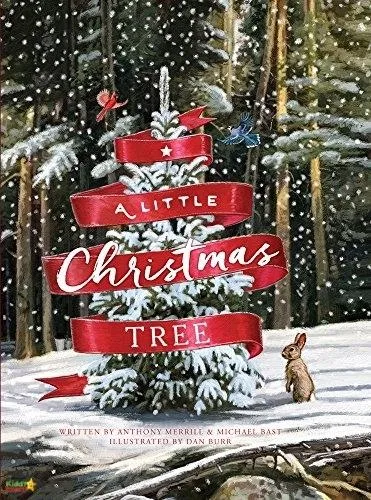 Day 4
This is the classic tale of a Scots Pine, and all that it wants to do is be a Christmas Tree for a family. Every year though he keeps being passed over; but his mother tells him to be patient.
When he is finally chosen, his branch is snapped, so who will choose a broken Christmas Tree now?
Little does he know – there are bigger plans for him than he could imagine to help bring the true meaning of Christmas to someone somewhere.
Day 5
This book is designed for kids to help them to understand how the Christian beliefs fit around the idea of Santa Claus.
This is a spiritual book drawing parallels between Santa and Jesus, so bear this in mind when choosing your books to read.
Day 6
Red and Lulu
by Matt Tavares
A charming book about Red and Lulu who make their nest in a Christmas Tree in New Year.
A lovely story about the miracle that occurs when Red and Lulu are separated at Christmas, to help us all understand the true meaning of Christmas.
Red and Lulu usually have O Christmas Tree sung to them at Christmas, but as they have been separated this year, they need somehow to find each other first. Find out what happens by reading the book….
Day 7
A beautifully illustrated book, with wonderful splashes of colour, die cut and foil to help tell the tale of a magical story that helps to make a little girl's dreams come true.
One day, that little girl hears a jingle in the woods and embarks on a wonderful journey with a fantastical, magical creature for Christmas.
Day 8
An introduction to the nativity, beautifully illustrated and focusing on the first Christmas.
This book is designed to introduce younger children to the idea of the nativity and that very first Christmas.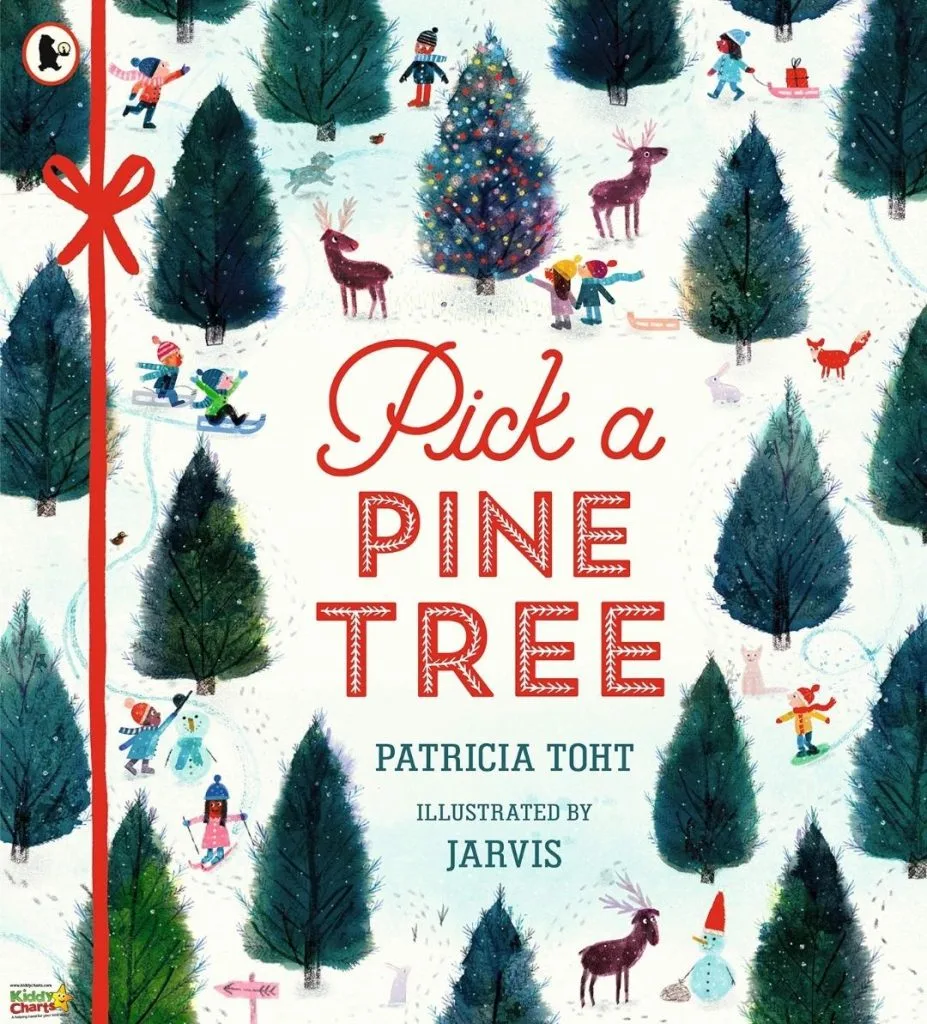 Day 9
A delightful story about the joy that families experience at Christmas of picking out that favourite tree and decorating it, picking out the tinsel, and finishing everything off.
The story finishes with finally turning on those all important Christmas lights.
Day 10
Santa Rex
By Molly Idle
This is a story about Christmas with a difference. Cordelia has some rather special friends in her life, her dinosaurs!
How do you celebrate Christmas with all the usual trimmings, plus dinosaurs in the house?
Everything should be completely OK as long as no-one knocks over the Christmas Tree right….
Oops. Too late.
The big question is though, will Santa Rex bring Cordelia everything that she would like for Christmas this year?
Day 11
An interactive book with bundles of joy and fun for the kids and for you.
Guide bunny down the slopes, with turns, and moves to help them get to the bottom.
Entertaining and relaxing all at the same time, a joy to read at bedtime with the kids!
Day 12
This is a beautiful book, but also an old one, so it might be a little harder for you to get hold off. There are alternative 12 Days of Christmas books for you to use too, but this is our favourite one.
A walk through town where a many buys wonderful gifts for his wife, and they walk to a rather amazing party.
The first gift, the partridge in the pear tree awaits them on their return, as the party gets a little bit busy with all the gifts that are being given!
These are our 12 ideas for you to pick for the books in our Christmas Books reading countdown, but, as always, we have tried to make this a little easier for you. Just in case you have some Christmas Books already, and you don't want to spend on all 12 books, we have created a set of blank story cards for you too. You can write in alternatives as you choose to the 12 we have provided for you.
That way, your advent countdown can be tailored for your kids, and also your bookshelves!
What do the Christmas Books story cards look like?
As you can see – these are gorgeous!
All you need to do to download them, is click on the button below, and make sure you are signed in as a member of our Time to Pee free club.
We hope that you like these printables for Christmas. Why not check out the other Christmas printables we have in the shop and the Christmas printable freebies we have here too. Here are some examples of what we have on KiddyCharts for you:
Christmas Printables on KiddyCharts
More fantastic Christmas printables for you all to download on KiddyCharts. Make Christmas a little more magical for the kids.
If you are looking for other activities offsite, do try these as well?
Christmas Printables from the Web
Some more ideas for Christmas Printable fun from the internet. Why not nip off my site and check them out? But DO come back afterwards!
Photo Credit: www.totschooling.net
Playdough is always a winner, so why not check out these Christmas themed playdough mats for the kids?
Photo Credit: www.redtedart.com
Have you heard of Thaumatropes? They are wonderful for the kids, and oh so simple to make. Check them out on Red Ted Art.
Photo Credit: crystalandcomp.com
Do a Dot printable are a wonderful activity for pre-schoolers, and here are some gorgeous Christmas themed ones to try with the little ones.
Thanks as always for coming to see us. don't forget to sign up for the Time to Pee newsletter as well as for our premium account.
Always lovely to have you on site, and feel free to keep coming back.
Take care,
Helen